Panel suggests review of Indian laws in Kashmir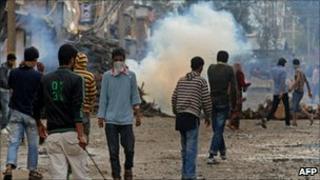 India should review laws imposed on Indian-administered Kashmir after 1952 if it wants to defuse tensions there, a government-appointed panel has advised.
But the mediators rejected the idea that Kashmir should be autonomous.
The panel was formed in 2010 with an aim to defuse tensions after more than 100 people were killed during protests against Indian rule.
Most separatist groups had dismissed the panel as a " joke". Its report was made public on Thursday.
The disputed region of Kashmir is claimed by both India and Pakistan and tens of thousands of people have been killed since an armed revolt erupted in 1989.
The panel comprised journalist Dileep Padgaonkar, Radha Kumar and MM Ansari. Its report was submitted to the government last year.
The panel asked the federal government to review the controversial military law which gives absolute powers to the armed forces in the region and take "confidence building measures".
But the mediators said they not in favour of a return to the "pre-1953 situation" when Kashmir had its own constitution, flag and prime minister.
The region had control over all its affairs with the exception of finance, defence and communications.
"The group of interlocutors does not recommend a pure and simple return to the pre-1953 situation," the report said.
"This would create a dangerous constitutional vacuum in the centre-state relationship. The clock cannot be set back," it added.
The panel has suggested that a constitutional committee be set-up to review the laws and "complete its work within six months".
Correspondents say separatist groups are unlikely to accept the report.