India Maoists free abducted official Alex Paul Menon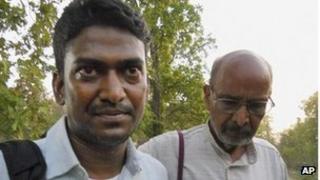 An Indian official kidnapped by Maoist rebels in Chhattisgarh state has been freed after 12 days in captivity.
Alex Paul Menon, who was seized on 21 April, said he was "tired and shattered" after he was handed over to mediators in Sukma district.
Mr Menon is the most senior government official in the district, which is part of the Maoist-dominated Bastar region.
Prime Minister Manmohan Singh has described the rebels as India's biggest internal security threat.
Speaking to journalists, Mr Menon said he was fine and thanked "mediators from both the sides, my government, all the officers, family and friends" for their efforts.
"I am tired, shattered. I would just like to go back home. I would just like to rest," he said.
Mr Menon looked exhausted, as he was taken taken away by security personnel following the handover in the village of Tadhmetla.
On Monday, mediators from the two sides had met and reached an agreement on Mr Menon's release. The rebels said a day later they would release him on Thursday morning, but he was finally freed in the evening.
'Utmost concern'
Earlier, retired bureaucrat BD Sharma and social activist Professor G Hargopal - who have been negotiating on behalf of the rebels - reached the area where Mr Menon was to be handed over to them.
The mediators said they had agreed to set up a high-powered committee which would review allegations of human rights abuses lodged by tribes people and Maoist supporters.
Mr Menon had gone to Manjhipara village to attend a meeting of local tribes people when Maoist insurgents surrounded the area and opened fire.
Two of the official's guards were killed and he was taken away.
Maoists have a strong presence in Chhattisgarh and neighbouring Orissa.
The rebels say they are fighting for a communist state and for the rights of tribal people and the rural poor.