India allows Italian ship Enrica Lexie to leave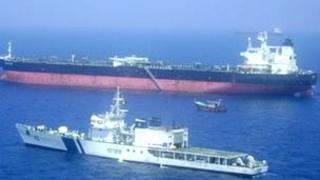 India's Supreme Court has allowed an Italian ship detained since two marines on board killed two fishermen in February to leave Indian waters.
The two marines are being held in India on murder charges.
Italy says the two marines fired warning shots, mistaking the Indian fishermen for Somali pirates.
The court said six crew members of the Enrica Lexie and four other marines must return to India if needed by the police or courts.
The incident took place off the coast of the southern Indian state of Kerala. India said the fishermen, Valentine and Ajesh Pink, were unarmed.
Their deaths have touched off a diplomatic dispute between India and Italy and a row in India over who has legal jurisdiction over the case.
Compensation paid
Italy insists its personnel cannot be charged under Indian law. It says the marines had immunity as the tanker was flying an Italian flag and was in international waters when the incident happened.
Until recently, the Indian government had insisted the incident took place in its territorial waters and the marines be tried under local laws.
But two weeks ago, the Indian government signalled an apparent shift by telling the Supreme Court that Keralan police had no jurisdiction to detain the Italian ship or investigate the incident because it had occurred on the high seas.
But Keralan officials disagreed. "We still stand by our position that the incident took place in our waters and we will try them under our laws," the state's Chief Minister Oommen Chandy said.
Last week, Italy agreed to pay 10m rupees ($189,000; £117,013) to each of the fishermen's families.
In return the families have withdrawn civil court cases against the marines.