Sachin Tendulkar proposed for India's Rajya Sabha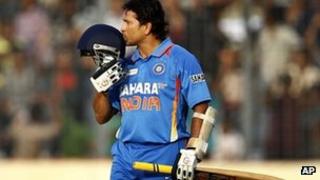 Top Indian cricketer Sachin Tendulkar has been put forward by the prime minister for a seat in India's upper house of parliament.
The letter of recommendation has been sent by Manmohan Singh to President Pratibha Patil who can nominate 12 people to the Rajya Sabha.
Reports say that veteran Bollywood actress Rekha is among others also recommended by the prime minister.
If accepted, Tendulkar will become the first active sportsman in parliament.
Sachin Tendulkar made history in March when he became the first cricketer to score 100 international centuries, in a match against Bangladesh.
The 39 year-old is revered by millions of Indian cricket fans.
'First cricketer'
Of 250 Rajya Sabha members, 12 are nominated by the president for "special knowledge or practical experience in respect of such matters as literature, science, art and social service", according to the constitution.
India's home ministry finalises the nomination list only after getting the consent of the people they recommend, media reports say.
Actress Rekha, 57, was a top Hindi film heroine in the 1980s, regarded as a sex-symbol.
On Thursday Tendulkar and his wife Anjali, made a courtesy call to the ruling Congress Party President Sonia Gandhi at her residence in the capital Delhi.
Tendulkar made his international debut in 1989 and has played 188 tests and 463 one-day internationals.
He will become the first cricketer to take a seat in the upper house of India's parliament. There have been several film personalities in the past and currently poet and scriptwriter Javed Akhtar is in the house.