India Islamic seminary Deoband criticises Rushdie study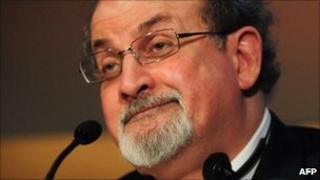 Leading Indian Islamic seminary Darul Uloom Deoband has criticised a university for awarding a post-doctoral fellowship to a scholar studying the works of author Sir Salman Rushdie.
Chaudhary Charan Singh University gave the position to an academic who looks at the use of magic and realism.
A Deoband spokesman said the author had hurt Muslim sentiments and a study of his work should not be done.
A professor at the university said the study was unlikely to happen.
Prof Arun Kumar told the BBC that the academic had been allocated a five-year grant for her study but to claim it, she needed at least 80% attendance at the university.
"But she has not been present due to medical reasons which means she is effectively disqualified for the grant," he said.
Prof Kumar said scores of academics have already done doctoral research on Sir Salman's writings across India over the years, but every one has excluded his controversial book, The Satanic Verses, which is banned in India.
'Highly condemnable'
"Salman Rushdie is a man whom India does not like. His book is banned in India. The university has no right to allow a post-doctoral study on him," Darul Uloom spokesman Ashraf Usmani told the BBC.
"He has hurt the sentiments of Muslims. If his book is banned in India, then how can you legitimately study it? This is highly condemnable," he said.
He added that the university must take "corrective steps immediately".
Reports said the topic - Use of Magic and Realism in the major novels of Rushdie, Amitav Ghosh and Vikram Seth - was recently chosen by a scholar at the university based in Meerut town in the northern state of Uttar Pradesh.
The state has a significant Muslim population and many Muslims regard The Satanic Verses as blasphemous. The book was published in 1988.
The writer won the Booker Prize for Midnight's Children in 1981.
Last month, Uttar Pradesh state Chief Minister Akhilesh Yadav and Pakistani politician Imran Khan withdrew from attending a conference in Delhi where Sir Salman was one of the speakers.
In January, the author withdrew from attending the Jaipur Literature Festival, saying that sources had told him of a death threat.
He was also forced to abandon plans to address the gathering by a video-link after protesters threatened to march on the venue.