India Maoist rebels set conditions to free official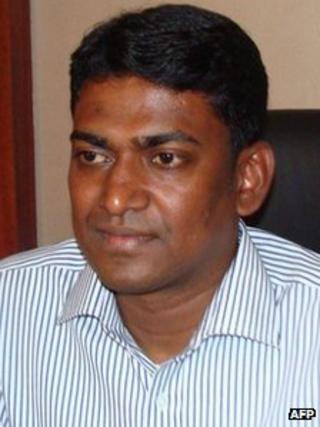 Maoist rebels in the central Indian state of Chhattisgarh have demanded the release of some cadres and withdrawal of security forces in exchange for freeing a senior official.
The rebels abducted Alex Paul Menon after killing his two guards in Sukma district on Saturday afternoon.
Mr Menon was holding a meeting with local tribal people when the incident happened.
Maoist rebels have a strong presence in Chhattisgarh and neighbouring Orissa.
The rebels have said their demands of releasing some of the their top cadres from prison and withdrawing security forces from the restive Bastar region of Chhattisgarh will have to be met by Wednesday in exchange for Mr Menon.
In a pre-recorded statement issued to the BBC, Vijay, identified as secretary of the South Bastar divisional committee of the CPI (Maoist), alleged that excesses were being committed against tribal people by security forces in the name of counter insurgency operations.
Mr Menon, an officer of the Indian Administrative Service, is the senior-most official - district magistrate - of Sukma district, which is located in the Bastar region.
Appeal
Authorities said Mr Menon had gone to Manjhipara village to attend a meeting of local tribal villagers when Maoist insurgents surrounded the area and opened fire.
District official, SP Vaidya, who was present at the spot, told the BBC by telephone that even as Mr Menon was interacting with the villagers, the insurgents first targeted his bodyguard.
"Then they asked who the district magistrate was. Mr Menon came forward and told them that he was the person they were looking for. Later, they forced him to accompany them into the deep woods," Mr Vaidya said.
Mr Menon's wife Asha Menon has appealed to the rebels to release her husband on "humanitarian grounds".
She told the BBC that Mr Menon was suffering from asthma and needed medical care.
A group of eminent citizens, led by historian Ramachandra Guha, has condemned the kidnapping.
"By killing the innocent security guards who were on duty and kidnapping Mr Menon, the Maoists have betrayed their lack of respect for human rights and democratic processes," a statement issued by the group said.
Saturday's incident came barely 24 hours after another district magistrate and a local legislator came under attack by rebels who triggered off a powerful landmine blast in nearby Bijapur.
While district magistrate Rajat Kumar and politician Mahesh Ghaghra escaped unhurt, a vehicle behind them was ripped apart by the blast.
Two leaders of the ruling Bharatiya Janata Party (BJP) in the state were killed in the incident.
In neighbouring Orissa state, legislator Jhina Hikaka, who was seized on 23 March by another group of Maoists, remains in custody.
Earlier this month Italian hostage Paolo Bosusco was freed by rebels in Orissa after nearly a month in captivity.
Mr Bosusco, 54, was abducted on 14 March, along with fellow Italian Claudio Colangelo, 61, while trekking in a tribal area of Orissa state. Mr Colangelo was released on 25 March.
Prime Minister Manmohan Singh has described the Maoists as India's biggest internal security threat.
The rebels say they are fighting for a communist state and for the rights of tribal people and the rural poor.