India factory collapse 'kills five' in Punjab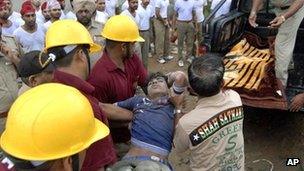 At least five people have been killed and several are feared trapped under the debris of a blanket factory which collapsed in the Indian city of Jalandhar on Sunday, officials say.
Emergency workers are searching through the debris and more than 60 people have been rescued so far, police said.
Between 70-100 people were in the factory at the time of the collapse, estimates say.
The incident took place at midnight on Sunday in the state of Punjab.
Officials say it is difficult to determine how many people were in the factory at the time of the collapse because there is no definitive list of workers who were present at the time.
Punjab Chief Minister Parkash Singh Badal has ordered a judicial inquiry into the collapse and the payment of 200,000 rupees ($3,870/£2,400) to the families of those killed.
Night-shift workers at the factory said they heard the building creak before the walls and ceiling came tumbling down. The building is now completely flattened.
Officials say rescuers - including fire brigade personnel and soldiers - are still trying to reach at least one man still alive under the rubble even though it is now dark.
"We have rescued about 60 to 70 people so far," AFP quoted Jalandhar's deputy commissioner of police, Tulsi Ram, as saying.
"The rescued workers tell us that at least 20 people are still trapped under the debris, some with smashed bones. The rescue effort is on in full swing."
It is not yet known what caused the collapse, but one eyewitness told the CNN-IBN channel that a boiler had exploded.
In November 2010, at least 67 people died and 100 were injured in a five-storey building collapse in the Indian capital, Delhi.
That disaster was blamed on shoddy construction, extra storeys allegedly being added illegally to the structure, and water seepage from the nearby Yamuna river.