'Battered' Indian Baby Afreen dies in hospital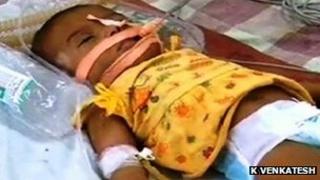 A three-month-old baby girl allegedly battered by her father has died in a hospital in India's Bangalore city.
Hospital authorities said Baby Afreen had a cardiac arrest on Wednesday and attempts to revive her failed.
She was brought to the hospital last week with severe head injuries and burn marks on her body.
Her father was arrested after her mother alleged that he beat up the baby because he was upset at having a daughter instead of a son.
But the father has denied beating the child and said he did not know why his wife had alleged so.
"We are sad to announce that Baby Afreen suffered a cardiac arrest at 10:40am [06:10GMT], we tried resuscitating her for half an hour, but unfortunately we couldn't save her," Professor R Premalatha of Bangalore's Vani Vilas government hospital told reporters.
The case of Baby Afreen has attracted widespread attention with women's and children's groups demanding tough action against those who hurt her.
The case follows the death last month of a severely battered toddler who was taken to a Delhi hospital in January.
That child, was brought to hospital with serious injuries, including human bite marks all over her body, by a teenage girl.
The case of the toddler had gripped India, provoking widespread outrage and condemnation.