India teacher Rupam Pathak jailed in politician killing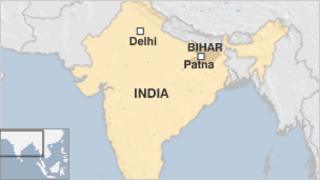 A court in India has sentenced for life a woman school teacher who stabbed to death a legislator in full public view in the northern state of Bihar.
Rupam Pathak stabbed the politician at his home in Purnia town in January last year.
Rajkishore Kesri, of the state's governing Bharatiya Janata Party, was meeting visitors when the attacker pounced, police said.
The married teacher later accused Mr Kesri of sexual harassment.
Mrs Pathak family said they would challenge the verdict in a higher court.
Witnesses said that when her turn came to speak to the lawmaker, the woman pulled a knife from under her shawl and stabbed him in neck, stomach and chest.
Mr Kesri's spleen burst, leading to his death. His supporters beat her up after the stabbing.
Police said the woman had lodged a sexual harassment complaint in May 2010 against Mr Kesri.
She told police she had also had a two-year relationship with the politician.