India court concern over Pakistani prisoners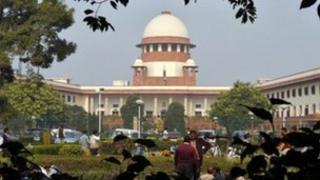 India's Supreme Court has said it is "pained" by the plight of mentally disabled Pakistanis languishing in Indian jails.
Justice RM Lodha said such cases should be given "priority" when top leaders from the two countries meet.
The judge said he was referring to 21 prisoners, 16 of whom are "mentally unsound and five are deaf and dumb".
The court has given the government three weeks to find out how they can be repatriated.
Pakistani President Asif Ali Zardari made a short visit to India on Sunday where he had a lunch meeting with Prime Minister Manmohan Singh.
A day later, the Indian Court freed on bail an 80-year-old Pakistani doctor convicted for a 1992 murder.
Virologist Khalil Chishti was ordered not to leave India until the court had decided on his appeal.
'Proof of identity'
The court's bench, headed by judge RN Lodha, on Tuesday asked the government "why mentally unsound Pakistani prisoners who have completed their sentences should not be repatriated"?
"Should not such matters be taken up at the highest level when the heads of the state meet?" Justice Lodha asked.
"There is no doubt that the best of facilities are being provided to such prisoners in detention centres but the problem is why they are not being repatriated? What is the impediment? Such detention pains us... The top most priority has to be given to these cases."
The government says many of the Pakistanis are still in jail even after they have served their sentences because they do not have proper identifications.
It says these people cannot be sent back without "a proper proof of identity".
At least 250 Pakistani nationals are being held in Indian jails, some for many years, with one case involving a prisoner behind bars for more than 40 years.
Last year, both countries released a number of prisoners as a "goodwill gesture".