India police oppose swapping Maoists with hostages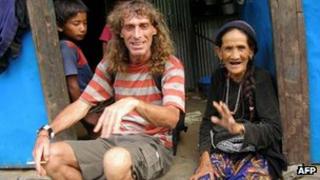 Police in the eastern Indian state of Orissa have threatened to stop work if the government releases Maoist leaders in exchange for any hostages.
The rebels are holding Italian tourist Paolo Bosusco since 14 March and state legislator Jhina Hikaka since 23 March.
They have demanded the release of 30 cadres and supporters and set a Tuesday deadline for meeting their demands.
But police unions say releasing any rebels will be "an affront to those officers who died fighting the rebels".
Separately, a court in Orissa freed the wife of a top Maoist commander, Sabyasachi Panda, on Tuesday.
Subhashree Panda is among the seven people whose release has been demanded by rebels in exchange for Mr Bosusco.
The Orissa Police Association, which represents middle and lower-level policemen, has threatened to boycott counter-insurgency operations if the government gives in to the Maoists' demands.
"It is sheer blackmail and we will protest if the government buckles under it," association president Sanwarmal Sharma told the BBC.
"It will be an affront to those police officers who died fighting the Maoists in hostile terrain," he said.
Negotiations between officials and the rebels over the release of Mr Bosusco have been deadlocked.
The government had offered to release five of the six people named by the rebels in exchange for the Italian, but the rebels say it is not clear who the five men are and whether their other demands have been accepted.
Mr Bosusco, 54, was seized along with Claudio Colangelo, 61, while trekking in a tribal area of Orissa, one of several regions of India where Maoist rebels are active. It was the first kidnap of foreigners by Maoists in Orissa state.
Mr Colangelo was released on 25 March but Mr Bosusco remains held.
The Maoists have a strong presence in many eastern states, and have been described by Prime Minister Manmohan Singh as India's biggest security threat.
The rebels say they are fighting for a communist state and for the rights of tribal people and the rural poor.