India Defence Minister Antony denies ammunition shortage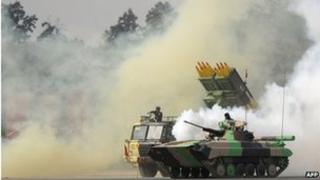 India's Defence Minister AK Antony has dismissed as "rumours" reports that there is a severe shortage of tank ammunition in the country.
He also rejected reports that India was not battle ready.
The minister was commenting on reports that the army's armoured regiments had only four days of ammunition left.
Separately, a parliamentary panel summoned the chiefs of the armed forces to seek their opinion on the state of the country's defence preparedness.
It came after a recent letter by army chief Gen VK Singh to PM Manmohan Singh which said that much of India's defence equipment was "obsolete" and the forces were "woefully short" of weapons.
The confidential letter was leaked to the media and Gen Singh said the leak amounted to "high treason".
Mr Antony then told parliament that the "government is committed to doing all that is necessary to secure the nation".
'Fully prepared'
"These are all rumours. I can assure you that the country is fully prepared. India is in much more strong position as compared to the past," Press Trust of India quoted Mr Antony as saying on Tuesday.
"There will always be some shortcomings and that is also in the process. We can't expect 100% requirements to be fulfilled and also that entire force is not on the front. They are all spread over," he said.
The minister said that the armed forces were in a position to "meet any challenge to the security and integrity of the country".
Mr Antony's comments come a day after a parliamentary panel on defence called the chiefs of army, air force and navy on 20 April to find out the state of defence preparedness.
In his letter to the prime minister, Gen Singh said India's air defence was "97% obsolete", the army lacked the equipment it needed and its entire tank fleet was "devoid of critical ammunition to defeat enemy tanks".
The infantry lacked "night fighting" capabilities and was crippled with "deficiencies of crew-served weapons", the letter added.
Defence Minister Antony said the leak was "a breach of national security" and several MPs demanded that the source of the leak be identified and punished.
Some MPs blamed Gen Singh for the leak and demanded that he be sacked.
Mr Antony said the government would take "appropriate action" on the letter.
India's armed forces have been attempting a modernisation drive in recent years that has made the country the world's top arms importer.
Analysts say the upgrade has been hampered by delays and a lack of planning.