Talks being held to free Indian crew of hijacked ship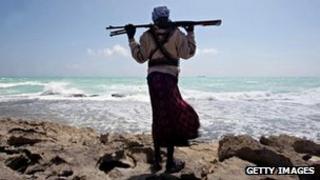 Negotiations are being held with Somali pirates who captured a tanker and are holding its crew of 22, including 17 Indians, hostage.
An Indian agent who recruited five of the sailors said the ship's Dubai owners had received demands from the pirates and were in talks with them.
The MV Royal Grace, a chemical tanker, was seized off Oman on 2 March.
The crew's families were only told weeks later and have been given no information on the sailors' condition.
The relatives were not told about the hijacking until late March "because the owners did not want the Indian government to know and file a case against them," Manu Chauhan of the East India Shipping Agency told the BBC.
The East India Shipping Agency recruited five of the men.
Mr Chauhan said he was going to Dubai to meet the ship's owners and get more information on the crew's condition.
He said he was helping all the families as he feels a "moral responsibility".
"We don't know who the company is negotiating with. Whether it is with the pirates direct or through an agency," he said.
"Our main concern is about the safety of the men and their release," Mr Chauhan added.
Three Nigerians, a Pakistani and a Bangladeshi were also on board the Royal Grace.
Somali pirates are believed to be holding more than 20 vessels and nearly 300 crew, including more than 30 Indians.
As the pirates have expanded their operations, they are using bigger ships and better equipment funded by the large ransoms paid for the release of hostages.