India Maoist talks to free abducted Italian stalled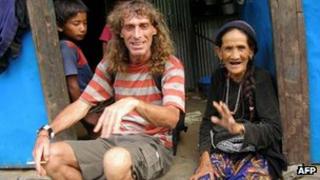 Negotiations between officials in India's Orissa state and Maoist rebels over the release of an abducted Italian tourist have become deadlocked.
The government had offered to release five of the six persons named by the rebels in exchange for Paolo Bosusco.
The rebels say it is not clear who the five men are and whether their other demands have been accepted.
The rebels also abducted a state legislator, Jhina Hikaka, in a separate incident last month.
Mr Hikaka was kidnapped on 23 March while returning home from a meeting.
Earlier that month, Italians Paolo Bosusco, 54, and Claudio Colangelo, 61, were seized while trekking in a tribal area of Orissa, one of several regions of India where Maoist rebels are active. It was the first kidnap of foreigners by Maoists in Orissa state.
Mr Colangelo was released on 25 March but Mr Bosusco remains held.
Government 'silent'
Over the weekend the government offered to release five of the six people whose release has been demanded by the negotiators mediating between the government and the rebels in exchange for the release of Mr Bosusco.
But on Sunday, Maoist commander Sabyasachi Panda said the government should free seven persons whose names he had given to the negotiators, and "not the five persons as it has been announced".
He said the government was also silent on 13 demands made by the rebels in exchange for Mr Bosusco.
"The government must announce its decision loud and clear. It must announce, through the media, which of our 13 demands it is accepting and which it is not. We hope that this will ease the complicated situation and pave the way for the release of the Italian prisoner," Mr Panda said.
The Maoists have a strong presence in many eastern states, and have been described by Prime Minister Manmohan Singh as India's biggest security threat.
The rebels say they are fighting for a communist state and for the rights of tribal people and the rural poor.