India army chief Gen Singh says troop report 'stupid'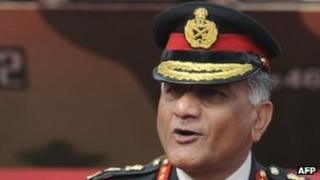 India's army chief Gen VK Singh has dismissed as "absolutely stupid" a report that two key army units were moved towards Delhi in January without the government being informed.
On Wednesday,the Indian Express reportedthat the unexpected movement "had spooked the government".
PM Manmohan Singh has said the report is "alarmist".
The report comes at a time when the government and the army have been involved in a series of disputes.
On Wednesday, the government had rejected the report, saying that the army movements towards the Indian capital were "routine".
'Muck'
"Some people are trying to throw muck at the government and the army. Such people need to be taken to task," Gen Singh said on Thursday from Nepal's capital, Kathmandu, where he is attending a seminar.
The Indian Express report said the incident took place on the night of 16 January - the day Gen Singh filed a case in the Supreme Court in an acrimonious row with the government over his age.
"Intelligence agencies reported an unexpected movement" by two key military units from Hisar (in Haryana state) and Agra (in Uttar Pradesh state) towards Delhi, the report said.
The movement caused considerable alarm and consternation in the government, it said.
It added that Defence Minister AK Antony was informed, Prime Minister Singh was woken up early on 17 January and Defence Secretary Shashi Kant Sharma was called back from a trip to Malaysia.
The army told the newspaper that the units were engaged in a routine exercise to test their mobility in fog and did not need to warn the government in advance.
Several analysts said the report, coming at a time of tense relations between the government and the army, was "mischievous" and "should be thrown in the dustbin".
The Indian Express has stood by the report and said it is a "meticulous reconstruction and a very sober interpretation of the movement of two key army units" towards Delhi.
There have been several run-ins between the army chief and the government.
A letter Gen Singh wrote in March to Prime Minister Singh about the inadequate state of India's defences was leaked and the general recently alleged he was offered a large bribe from a defence industry lobbyist.
There was also a bitter dispute over the general's age, which he eventually dropped.
He went to the Supreme Court on 16 January to have his date of birth as recorded by the military - 10 May 1950 - changed to a year later so that it matched the date on his birth certificate and other documents.
He dropped the case after the court indicated it could rule against him because he had already accepted three promotions that were based on the earlier date.
Changing the date would have meant that he could retire in 2013 instead of this year.