India's submarine acquisition a sign of widening horizons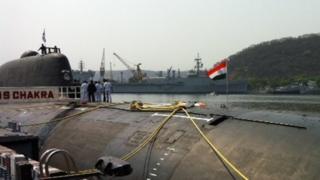 The Indian navy has formally commissioned a new Russian-built submarine, the Chakra, into its fleet - the first nuclear-powered submarine to be operated by the Indian Navy for some 20 years.
India did lease an older Russian nuclear boat, largely for training purposes, during the late 1980s and early 1990s. But the re-named Chakra will not be the last nuclear-powered submarine in the Indian navy.
The Chakra already has a rather chequered history.
It was originally to be built for the Russian navy. Construction began in 1993 but was halted due to lack of funds.
When India eventually agreed to lease the submarine there were further delays after the accidental release of fire-suppressant gas killed a number of workers.
The Chakra is an Akula-II class boat - an attack submarine - rather than one designed to carry long-range ballistic missiles. It is nuclear-powered - enabling it to remain submerged for long periods of time. In the Russian navy it would have carried nuclear-armed weapons but it will not do so in Indian service.
This is another important stepping-stone for India's navy.
India is already building a new class of nuclear-powered boats intended to carry nuclear-armed ballistic missiles.
The first of these Arihant-class submarines has already been launched and is expected to enter service next year. Five more are planned.
This is all part of India's growing effort to modernise its naval forces. A refurbished Russian aircraft carrier with advanced Mig-29K jets will enter service next year. This will be followed by an Indian-built aircraft carrier in due course.
New US-built maritime patrol aircraft are on the way. And Russian and Indian shipyards are completing orders for guided missile frigates and other surface vessels. Six Scorpene-class diesel submarines are being built in India to French design.
Growing naval competition
The lease of the submarine highlights Moscow's long-standing and continuing role as one of India's main weapons suppliers.
India is fast becoming one of the most lucrative markets for weaponry in the world. But a number of projects like the refit to the carrier, the Admiral Gorshkov, and the building of three Krivak-III class frigates have been beset by delays at Russian shipyards and there have been demands from Moscow for additional funds.
This explains India's desire to build more of its vessels at home and, where possible, to seek alternative suppliers. Its submarine programme is a good illustration of this.
India's naval build-up has been gradually gaining pace over the past four or five years.
It is a sign of the country's widening maritime horizons and a response to the potential threat posed by the Chinese navy's expansion.
China's sub-surface fleet is of some concern to Indian naval planners. China already operates a small number of ballistic-missile-carrying submarines and its overall submarine force of some 65 boats is much larger than India's, which stands at some 14 boats.
There is growing naval competition in the Indian Ocean and the Bay of Bengal.
India's focus is very much on the Andaman and Nicobar Islands - off its south-eastern coast - which sit astride important sea-lanes.
Indeed, in 2001 India established a tri-service Andaman and Nicobar Command - a sign of the islands' strategic significance.
India's naval modernisation programme is a product not just of strategic competition with China, but is also driven by the broader forces of globalisation which are placing an increasing importance on trade-routes and sea-lines of communication.
It is also an indication of the vitality of the Indian economy. Experts estimate that over the coming decade India will spend the equivalent of some $10-15bn on strategic naval hardware.
That is a lot of money by anyone's calculations.