Yuvraj Singh: India's 2011 World Cup cricket win 'great moment'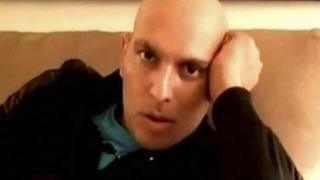 Indian cricketer Yuvraj Singh, who has just undergone treatment for cancer, has described India's victory in last year's World Cup as a "great moment".
"Especially doing it for Sachin Tendulkar - meant everything," Yuvraj saidin a video he posted on YouTubeto mark the first anniversary of the win.
Yuvraj says Tendulkar, who has just hit his 100th century, is an "inspiration".
He also spoke of being "absolutely fine" and looking forward to returning to play cricket for India.
In the video, Yuvraj, 30, has a fully shaved head after completing several rounds of chemotherapy in the United States.
He is expected to return to India later this month.
'That's life'
On the nine-minute video, Yuvraj recalls the words of Tendulkar when he was worried about his form and fitness.
"You will matter when it matters most," was the special thought, said Yuvraj, that "will always remain with me".
Last week, Tendulkar met Yuvraj in London, where he is recovering.
On his performance in the World Cup, Yuvraj said he "bowled well throughout and my fielding was bang on target".
Tweeting a link to the video, Yuvraj wrote "what a night it was".
The win was "an Indian dream coming to a reality," he added on the video.
The Indian cricketer also spoke of his cancer - diagnosed soon after the victory.
"I didn't expect to land up here after the World Cup, but that's life," he said.
"Now I'm treated and absolutely fine."
"I'll be back to normal health soon and look forward to playing for India," were Yuvraj's closing words on the video message to his fans.
Yuvraj's health deteriorated during the World Cup last year, which India won for the first time since 1983.
He was treated for a rare form of cancer, called mediastinal seminoma.
Earlier in his treatment, Yuvraj tweeted that he was feeling "better" after receiving a message of support from American cycling legend Lance Armstrong.
Armstrong, who was treated for testicular cancer, runs a foundation for cancer survivors.