Kashmiri youth troubled by frequent court trips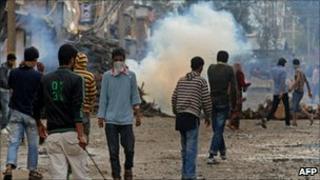 More than 20,000 boys in Indian-administered Kashmir are facing trials which require them to appear in court at short notice, their lawyers allege.
The teenagers have been charged over their alleged role in throwing stones at the security forces during anti-India demonstrations.
Last year, the authorities announced a general amnesty for youths involved in "mild offences".
But officials later said no-one was spared from prosecution.
"My school had planned a trip to some Indian cities but I had to miss it," said a boy in school uniform who was among a dozen teenagers present in a Srinagar court on Thursday.
"Policemen have told my parents that I would be arrested if I remained absent during a hearing. And the problem is they don't give prior dates, it's almost without notice," he said.
"Gangsters, burglars and other criminals are let go on bail and they are never sought for attendance in court, but our youth are harassed," said Mehbooba Begum, who had accompanied her 15-year-old son Mohsin Ahmad to court.
'Trapped'
Activists allege the boys are hounded by the state authorities with police frequently summoning them to court.
Child rights activist AR Hanjoora says the frequent court appearances have begun to affect the mental health of many of the youths.
"They get a sense of being trapped and constantly followed. This will ruin their life and career."
Anti-India sentiments are high in the Muslim-majority Kashmir Valley, which has witnessed massive street campaigns in recent years.
More than 120 people have been killed during the state's riot-control operations since 2010.
Last year was relatively peaceful and more than a million tourists visited the Himalayan region during the summer months.
But rights groups insist that the authorities indulged in repressive measures to ensure a "quiet summer".
"Even children are being handcuffed and presented as criminals. Random arrests have instilled fear among the youngsters and most of them have fled to other parts of India," an activist said.
The authorities had promised amnesty to those charged with minor offences but the government recently admitted that the amnesty had not been extended to anyone.
Kashmir, which is claimed by both India and Pakistan, has recently seen a drop in violence.
Thousands of people have been killed in the region since an armed rebellion against Indian rule erupted in 1989.