Norway to hand over Indian children in custody row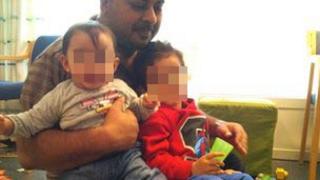 A child welfare agency in Norway has said it will hand over two Indian children taken into foster care 10 months ago to their uncle.
The Child Welfare Service (CWS) said a Stavanger District Court would make the final decision on 17 April.
Last week, the agency said the children would not be handed over because of reports of "marital problems" between the parents.
Local social services say the parents failed to look after their children.
The parents, Anurup and Sagarika Bhattacharya, deny this. The couple say "cultural differences" led to the situation, and that the authorities had taken exception to them sleeping with the children and feeding them by hand.
"The CWS now recommends that the uncle takes over care of the two Indian children in the child welfare case and a Stavanger District Court will make the final decision on 17 April," the agency's communication adviser Thomas Bore Olsen said in a statement on Thursday evening.
If the court decided that the children should be removed from the care of the public authorities, "the agreement can be implemented as soon as practicable. The uncle will then take over the care of the children and take them back to India", he said.
Public anger
Earlier this month, the chief welfare agency had said that custody of the children should be awarded to their uncle.
But following media reports of "conflicts" in the family, the Norwegian authorities put off the court hearing scheduled for 23 March.
Indian diplomats who were to go to Norway to monitor the court case also put off their trip.
Three-year-old Abhigyan and one-year-old Aishwariya Bhattacharya were put in foster care by the Stavanger CWS last May, because they felt the children were at risk.
The case has received extensive media attention in India and provoked public anger. Earlier this year the government decided to intervene and try to bring the children back to India.
This became a diplomatic issue between the two countries, with India saying the children should be allowed to live in their own cultural and linguistic environment.