Tibetan self-immolation activist in India dies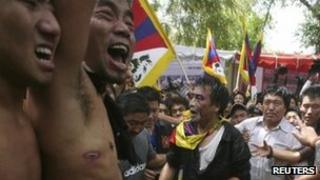 A Tibetan activist who set himself on fire at a protest in the Indian capital, Delhi, has died, doctors say.
Jamphel Yeshi was being treated in hospital with 90% burns to his body.
His set himself alight on Monday at a protest against the visit by Chinese President Hu Jintao for Thursday's summit of the Brics nations - Brazil, Russia, India, China and South Africa.
In recent months at least 25 Tibetans in China have set themselves alight against Beijing's rule of Tibet.
Disturbing pictures from Monday's demonstration showed Yeshi running in flames past other protesters.
"No one knew of his plans. He did this act to fight for the rights of all the Tibetans," AFP quoted Yeshi's cousin, Sonam Wangyal, as saying before the news of his death.
China's leaders say the Tibetan areas are an inseparable part of the country.
Most of the self-immolations have taken place in Tibetan parts of Sichuan province.
Associated Press news agency said the self-immolation in Delhi was the second in India recently. Last year a Tibetan exile set himself on fire outside the Chinese embassy, suffering minor burns.
A Tibetan government in exile is located in the northern Indian city of Dharamsala.