India court orders Rajoana execution to proceed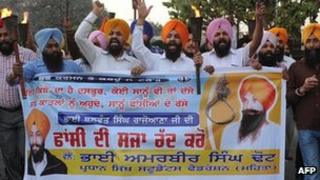 A court in the northern Indian city of Chandigarh has ordered the execution of Balwant Singh Rajoana to take place as scheduled on Saturday.
He was sentenced in 2007 for his role in the 1995 murder of then-Punjab state Chief Minister Beant Singh.
Rajoana has not appealed against the sentence, although other convicted co-conspirators have had their death sentences reduced on appeal.
If carried out, the execution would be the first in India since 2004.
Appeals
The superintendent of Patiala Central Jail, where Rajoana is being held pending his execution, told the court that he is unable to carry out the sentence because a mercy petition for Rajoana and another man convicted in the case are before President Pratibha Patil.
The superintendent, Lakhwinder Singh Jakhar, said he would appeal against the Chandigarh Sessions Court order to a higher court.
The state government of Punjab has also said it would appeal to a higher court to stop the execution.
A watchdog group, Lawyers for Human Rights International, has also asked the Supreme Court to stay Rajoana's execution.
Only the president or the Supreme Court can stop an execution.
The family of Beant Singh has also said it has forgiven Rajoana and would like his death penalty commuted to life in prison.
Beant Singh was killed on 31 August along with 17 others by a suicide bomber identified as Dilawar Singh.
Rajoana was convicted of acting as a back-up suicide bomber should Singh have failed.
Hundreds of convicts are awaiting the death penalty in India, including the killers of former Prime Minister Rajiv Gandhi. Pakistani national Mohammad Ajmal Amir Qasab - the sole surviving gunman of the 2008 Mumbai attacks is also on death row.
The Supreme Court has stayed Qasab's execution while an appeal is considered.