Indian school girl 'forced to beg' over poor grades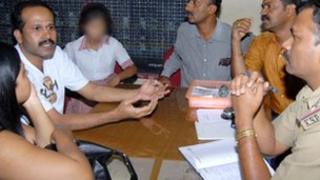 Police in the southern Indian city of Mysore have arrested a wealthy man for allegedly making his daughter beg as a punishment for poor school grades.
The man, named only as Prakash, was arrested under the juvenile misuse act after the girl was seen begging outside a temple in her convent school uniform.
He says he did not physically punish her but wanted her to see "how tough life is without proper education".
The 12-year-old girl has been placed in a government child-welfare centre.
When asked by passersby why she was begging, she pointed to her father who was sitting nearby in his car.
An angry crowd gathered and took the man to a nearby police station.
Mysore's deputy commissioner of police, Basvaraj Malagatti, quoted the man as saying: "I have not beaten her or punished her physically.
"I just wanted her to realise how tough life is without proper education."