India needs nuclear energy, says PM Manmohan Singh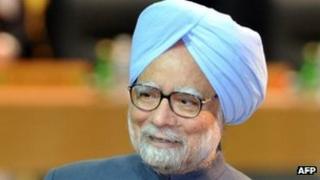 India's prime minister has told a gathering of world leaders that nuclear safety is of utmost concern but the country needs nuclear energy.
Manmohan Singh was speaking at a summit on nuclear security in Seoul.
Although the summit is about how to tackle the threat of nuclear terrorism, India's nuclear energy plans have faced protests from within the country.
Activists and locals say they are worried about the safety of the Koodankulam plant in Tamil Nadu state.
The protests gained momentum after Japan's Fukushima nuclear plant was badly damaged in the earthquake and tsunami of March 2011.
The meeting, attended by leaders of the US, China and Russia among others, has been discussing measures to fight the threat of nuclear terrorism, including the protection of nuclear materials and facilities, as well as the prevention of trafficking of nuclear materials.
Correspondents say Mr Singh's speech was not just about addressing the international community's concern about nuclear proliferation; it was also aimed at those protesting against the safety of Koodankulam plant.
'Essential component'
"India fully shares global concerns on nuclear terrorism and clandestine proliferation which pose serious threats," Mr Singh said.
"India has never been a source of proliferation of sensitive technologies and we are determined to further strengthen our export control systems to keep them on par with the highest international standards," he added.
But, given the country's growing energy demands, the prime minister said that nuclear energy was "an essential component of our energy mix".
Seeking to address the concerns of those protesting against the Koodankulam plant, Mr Singh said: "We are strengthening emergency preparedness and response to nuclear accidents.
"We are determined that our expanded nuclear power programme will follow the highest standards of nuclear safety and security. It is essential to restore public faith in nuclear energy, specially after the tragic events at Fukushima."
People living close to the site of the reactors in Koodankulam in the southern state of Tamil Nadu have long been opposed to the joint Indo-Russian project, but businesses in the state, which suffers from power shortages, have welcomed it.
The Tamil Nadu government gave the go-ahead last week for work on the plant's two 1,000 MW reactors to proceed.
It said that it had finished studying experts' reports and judged the plant to be safe.
Work had been halted by protests from locals and anti-nuclear activists worried about the plant's safety.