Italian hostage Claudio Colangelo released in India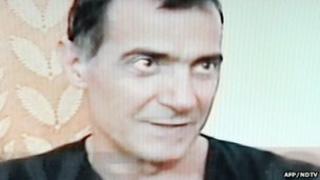 An Italian man who was taken hostage by Maoist rebels in India almost two weeks ago has been released.
Claudio Colangelo told the BBC his capture had been an ordeal, but that he was treated well and that he hoped his companion, Paolo Bosusco, would also be released soon.
It was the first kidnap of foreigners by Maoists in Orissa state.
The rebels have demanded an end to military operations against them and the release of jailed Maoists.
On Saturday, the Maoists abducted a local politician in the eastern Indian state, adding to tensions in the state.
Mr Colangelo said he had been treated well, but being in captivity was difficult:
"The weather, too hot; the food, it wasn't the Italian food of course [laughs], and the fact that I was not free; and thinking about my family because I knew I was well, but my family didn't know about it; so I was worried for them, not for me," he told the BBC.
He was handed over to three journalists who had travelled to the region for the purpose, who then took him to the local administration
Paulo Bosusco, 54, and Mr Colangelo, 61, were seized while trekking in a tribal area of Orissa state, one of several regions of India where Maoist rebels are active.
A Maoist spokesman accused the pair of photographing bathing women.
The Orissa government recently imposed severe restrictions on the movement of tourists inside areas inhabited by tribespeople.
Mr Bosusco runs an adventure tourism agency in Orissa while Mr Colangelo was visiting from Italy.
He told the BBC he was absolutely fine and confident about being released. "I know I have not done anything wrong and I am sure I will be released."
The Maoist commander, Sabyasachi Panda, alias Comrade Sunil, told the BBC that Mr Colangelo was being released as a "goodwill gesture" following appeals made by civil society organisations.
He was, however, non-committal about the release of the other hostage saying: "It all depends on the state government."
The abductions came at a time of strained relations between Italy and India.
They have been involved in a diplomatic dispute since Indian police arrested two Italian marines a month ago in the southern port of Kochi. The pair are accused of killing two Indian fishermen.
The Maoists have a strong presence in many eastern states, and have been described by Prime Minister Manmohan Singh as the country's biggest security threat.
The rebels say they are fighting for a communist state and for the rights of tribal people and the rural poor.