Indian PM Singh appeals for anti-corruption bill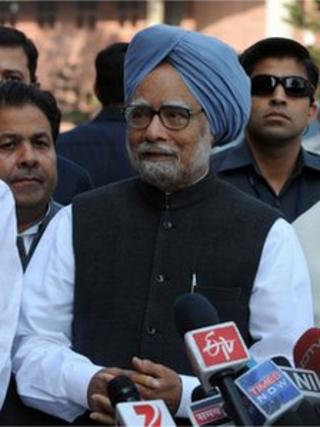 Indian Prime Minister Manmohan Singh has told leaders of political parties that he is committed to finding a consensus on an anti-corruption bill.
The Lokpal bill has passed in the lower house of parliament but the upper house adjourned amid chaos in December without passing the controversial bill.
It would empower an independent ombudsman to prosecute politicians and civil servants suspected of corruption.
Reports say the bill may be taken up again in the current budget session.
Mr Singh told the all-party meeting in the capital, Delhi, that his government was committed to a strong Lokpal bill.
His coalition government has been shaken by a number of corruption scandals.
Opposition parties have moved nearly 100 amendments to the bill, pointing to differences with the government over the composition and powers of the proposed ombudsman.
Leading anti-corruption campaigner Anna Hazare has been campaigning for a strong bill to be passed in parliament.
His hunger-strike in Delhi last August almost brought the government to its knees.
He started another hunger strike in December but called it off and threatened instead to launch a campaign of civil disobedience that would fill the country's jails.
A recent survey said corruption in India had cost billions of dollars and threatened to derail growth.