Toronto film festival to showcase Bollywood diversity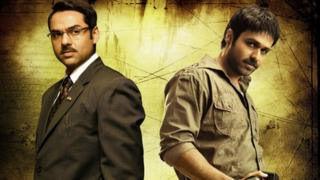 Film-makers from Mumbai, home to India's thriving Bollywood, will be showcased at this year's Toronto International Film Festival (Tiff).
The festival's famed City to City section will showcase the emerging trends of Mumbai cinema, the festival artistic director Cameron Bailey says.
Mr Bailey says the idea is "to introduce the new generation of independent Mumbai film-makers to audiences and buyers in Toronto and help create a platform for their films in North America".
Tiff, which runs from 6-16 September this year, will premiere 10 films made by directors working in Mumbai.
Tiff is one of the world's top film festivals and is regarded as a gateway to the North American market.
"This is just the right time to showcase Mumbai's exciting new independent cinema to the world," says Mr Bailey.
Mr Bailey believes that the growing energy and innovation in the Mumbai movie industry in recent times has led to the emergence of local independent films that provide a contrast to the glitz and glamour of Bollywood's big banner extravaganzas.
'Historical overview'
According to Mr Bailey, Tiff's cinematic focus on Mumbai will see a marked departure from the previous three editions of the City to City programme in two crucial respects.
The selected Mumbai films will not necessarily be set in the city of their origin, unlike the entries that made it to the Tel Aviv, Istanbul and Buenos Aires programmes in the past three years.
"Past editions of City to City explored how film-makers represented their urban landscape. This year we'll shift the scope of the programme to showcase film-makers living and working in Mumbai, regardless of where their films are set," says Mr Bailey.
And, all 10 of the films in the 2012 City to City selection will be new.
"In the past, we included some older films in order to provide a historical overview of a city and its cinema," says Mr Bailey.
"In the case of Mumbai, however, I expect to find enough new films to fill up the whole section."
Mr Bailey also hopes that a majority of the films in the Mumbai package will be world premieres.
But, he is quick to add, "while we would certainly prefer each of them to be a premiere, one cannot expect every single film in the selection to be absolutely new".
The final line-up is scheduled to be announced in August. "We will select both fiction films and feature-length documentaries for the City to City programme," says Mr Bailey.
"Might be early days yet but we do have some film-makers in our sights. We are tracking the progress of their next films."
'Reflect diversity'
Though the final composition of Tiff's Mumbai package will take several months to emerge, among the Mumbai films that might be in the running are Anurag Kashyap's two-part Gangs of Wasseypur, Dibakar Banerjee's political thriller Shanghai and Reema Kagti's suspense drama Talaash, starring Aamir Khan.
City to City is now in its fourth year. But Mr Bailey's association with Mumbai goes back much further - to the early years of the new millennium, when he first began selecting Indian films for Tiff.
"In my initial years here, I would select only arthouse films, primarily from Kolkata and Kerala. A film like Ashim Ahluwalia's John & John would be rare. But that has now changed," says Mr Bailey, adding that somewhere down the line Tiff began programming star-studded commercial Bollywood films as well.
Big Bollywood titles that have played in Tiff include Kabhi Alvida Na Kehna, Singh is Kingg and Dil Bole Hadippa.
The emergence of a new independent cinema in Mumbai has altered the canvas significantly and given Tiff a wider spectrum to choose from.
"We have in the recent past shown films such as That Girl in Yellow Boots and Dhobi Ghat," he says.
"The City to City selection will have both independent films as well as big, commercial productions," Mr Bailey says.
"It would be a mix that will reflect the diversity of the city itself."