India bus crash kills at least 16 school children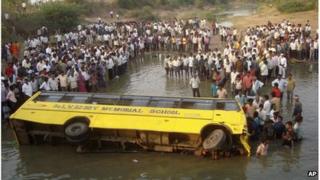 Indian police say at least 16 children died and 18 others were injured when their school bus crashed into a canal in the state of Andhra Pradesh.
The driver lost control of the bus when he tried to avoid a head-on collision with a motorcycle, police said.
Forty students were on their way home from school in Khammam district, 250km (155 miles) east of Hyderabad.
The state's Chief Minister Kiran Kumar Reddy expressed his deep shock and anguish and ordered an investigation.
Rescue teams rushed to the scene from the nearby Singareni Collieries to help.
According to the police, 18 children were injured and have been admitted to different hospitals in the area.
"The driver tried to avoid a speeding bike coming from the opposite direction, lost control and the bus fell from a bridge into the canal," senior police official SA Huda told the BBC.
The accident happened outside the village of Raghavapuram near Kottagudem. Residents of the village ran to help pull children from the bus.
Chief Minister Reddy has ordered local officials to investigate the accident and submit a detailed report.
India has the world's highest road toll, with more than 110,000 people dying every year in accidents.