India kidnapping: Maoists say two Italians are safe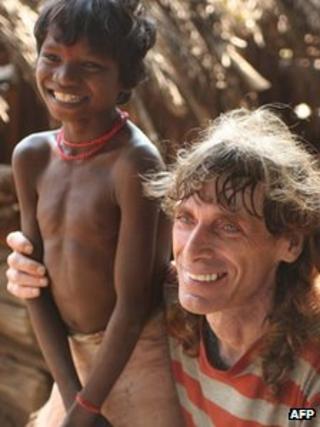 Maoist rebels in eastern India have said two Italians they kidnapped last week are safe and in good condition.
The rebels have named mediators to hold talks over the Italians' release.
Paulo Bosusco, 54, and Claudio Colangelo, 61, were seized while trekking in a tribal area of Orissa state, one of several regions of India where Maoist rebels are active.
The rebels have demanded an end to military operations against them and the release of jailed Maoists.
A deadline of Sunday for their list of 13 demands to be met was extended to late Tuesday.
The Maoists said they would not engage in violence until then and Orissa Chief Minister Naveen Patnaik said security forces would halt operations against the rebels during talks.
Restricted area
"The Italians are fine and being properly looked after, they are getting good food," rebel leader Sabyasachi Panda said in a recording sent to journalists.
"They have no problem at all," he said.
In an earlier recording, Mr Panda proposed that senior Maoist leader Narayan Sanyal and rights activists Bishwapriya Kanungo and Dandapani Mohanty be the mediators holding talks with the state government.
Mr Sanyal is currently in prison in neighbouring Jharkhand and would need to be released to lead negotiations, as the rebels have proposed.
Asked what would happen if the government did not agree to Mr Sanyal's participation, Mr Panda said talks would then be "doomed".
This is the first time Westerners have been kidnapped in Orissa state by Maoists.
A Maoist spokesman accused the pair of photographing bathing women.
The Orissa government recently imposed severe restrictions on the movement of tourists inside areas inhabited by tribes people.
Mr Bosusco ran an adventure tourism agency in Orissa while Mr Colangelo was visiting from Italy.
Italian Consul General Joel Melchiori has told the BBC he was working with Orissa officials to find a solution.
The abduction comes at a time of strained relations between Italy and India.
They have been involved in a diplomatic dispute since Indian police arrested two Italian marines a month ago in the southern port of Kochi. The pair are accused of killing two Indian fishermen.
The Maoists have a strong presence in many eastern states, and have been described by Prime Minister Manmohan Singh as the country's biggest security threat.
In his first remarks on the kidnapping, he said "the abduction of two foreign national recently is a reminder of the challenge to our internal security by Naxal [Maoist] and left-wing extremism."
The rebels say they are fighting for a communist state and for the rights of tribal people and the rural poor.