India behind 24% jump in world arms trade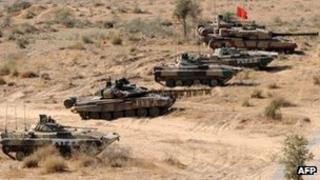 India's spending on imported weapons was behind a 24% growth in the global arms trade over the last five years, a Sweden-based think tank says.
The country accounted for 10% of all arms imports in the period, the Stockholm International Peace Research Institute (Sipri) says.
India has gone on a major defence spending spree as it seeks to modernise its armed forces.
China, the former top arms importer, now builds more of its own weapons.
"India's imports of major weapons increased by 38% between 2002-06 and 2007-11," the Sipri study said.
It was "the world's largest recipient of arms, accounting for 10% of global arms imports" in the last five years, the report said.
India's defence spending will rise by 17% in the financial year 2012-13, Finance Minister Pranab Mukherjee said last week, announcing the government's latest budget.
In the last five years, India has bought combat aircraft from Russia and the UK and recently announced a $20bn (£12bn) deal with France to buy fighter jets.
India would continue to dominate the arms-buying market, Sipri said, with major purchases still in the pipeline.
The top five arms importers were all from the Asia region, Sipri said: India was followed by South Korea (6% of imports), China and Pakistan (both 5%) and Singapore (4%).
China, which in 2006-07 was the largest arms importer, has now become a major weapons exporter, the world's sixth largest behind the US, Russia, Germany, France and Britain.