India cricketer Yuvraj Singh completes cancer treatment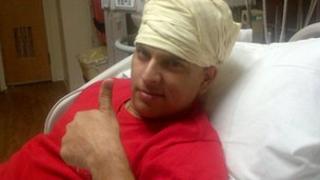 Indian cricketer Yuvraj Singh is out of hospital following the completion of his treatment for cancer.
He is expected to remain in the US for observation for several weeks following three rounds of chemotherapy at a hospital in Indianapolis.
A senior member of his medical team said Yuvraj was expected to make a full recovery and resume his cricket career.
His health deteriorated during the World Cup last year, which India won for the first time since 1983.
Yuvraj, 30, is being treated for a rare form of cancer, called mediastinal seminoma.
On Sunday he tweeted: "3rd chemo cycles over, back from hospital and I am free. Road to recovery starts now. Can't wait to be back home."
A senior doctor on his medical team said the cricket player could "get back to normal activity in about a couple of month's time".
Dr Nitesh Rohatgitold ESPNcricinfothat the medical team was "cautiously confident" Yuvraj's cancer would not come back.
Earlier in his treatment, Yuvraj tweeted that he was feeling "better" after receiving a message of support from cycling legend Lance Armstrong.
Armstrong, who was treated for testicular cancer, runs a foundation for cancer survivors.