India seeks three Iranians over Delhi attack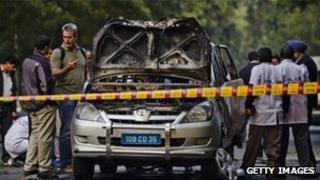 Police in India say they have issued arrest warrants for three Iranians for the attack on an Israeli diplomat's car in February.
The three Iranians were helped by Syed Mohammed Ahmad Kazmi, 50, an Indian already under arrest, police said.
Israel blames the attack on Iran, which describes the claim as "sheer lies".
Witnesses said a motorcyclist stuck a bomb to the car, causing a blast that injured four people, including the diplomat.
At the same time, there was an attempted attack in the Georgian capital, Tbilisi, but the device planted under an Israeli diplomat's car was discovered before it detonated.
Police in Delhi said arrest warrants had been issued for Houshang Afshar Irani, Seyed Ali Mahdiansadr and Mohammadreza Abolghasemi.
They were "suspected to be involved in the terror attack on the Israeli diplomat," a police official said.
Cash, a car and a bike used to scout out the Israeli embassy have been recovered from Mr Kazmi, police said.
Delhi Police Commissioner Brijesh Gupta linked the Delhi bombing to a botched one in Bangkok, Thailand, on 14 February, one day after the Delhi attack.
An Iranian lost his legs when explosives he was carrying went off as he fled a rented house with two other men after an apparently accidental explosion there.
The following day, another Iranian, Sedaghatzadeh Masoud, was arrested in Kuala Lumpur and is now fighting extradition to Thailand.
This man has been linked to one one of the three suspects Delhi police are seeking, police said.
"Houshang Afshar Irani, who had come twice to Delhi, was in touch with Sedaghatzadeh Masoud, thus establishing his links with the terror module [cell] that executed the terror acts in Bangkok," said Police Commissioner Gupta.