Battered Indian girl Baby Falak dies in hospital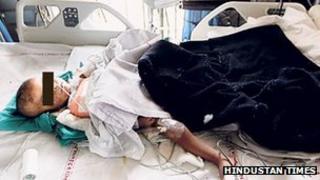 A severely battered toddler who was admitted to a hospital in the Indian capital, Delhi, in January has died.
The child was admitted to hospital with serious injuries, including human bite marks all over her body.
Her condition had improved after she underwent five operations, but she suffered from a heart attack late on Thursday, doctors said.
Police say the baby was handed on a number of times before a teenage girl brought her to the hospital.
The case of the toddler, who was named as Baby Falak, has gripped India, provoking widespread outrage.
Police have arrested 10 people in connection with the case. They include a man who had abandoned the child with his teenaged girlfriend.
DNA tests have been carried out to determine if a 22-year-old from Rajasthan is the mother.
Abandoned
Doctors at Delhi's AIIMS Hospital said Baby Falak "suffered a massive cardiac arrest" on Thursday night.
"The reasons that triggered the cardiac arrest are still not known. An autopsy will be conducted on Friday and that may throw some light," neurosurgeon Dr Deepak Aggarwal said.
The toddler had shown signs of recovery and doctors were calling her the "miracle baby" after she was taken off life support within weeks of being admitted.
During her treatment, she had contracted meningitis and suffered two heart attacks.
"But she had survived all this and had recovered well," Dr Aggarwal said.
"She was doing well. We removed her from the intensive care unit and shifted her to the ward after we found that she had recovered well."
Baby Falak was brought to hospital by a teenage girl on 18 January. The baby had broken arms and a partially smashed head.
The girl said she was the mother and that the toddler had fallen from her bed.
Police say their interrogation revealed that the teenager had been abandoned by her father and abused by a couple who pressed her into prostitution.