Pakistan team arrives in India to probe Mumbai attacks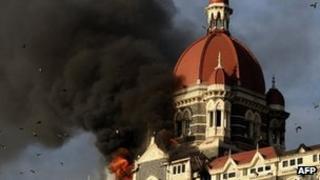 Pakistani officials have arrived in the Indian city of Mumbai to investigate the November 2008 attacks.
Reports say the team will record the statements of doctors and officials who are part of the investigations.
The statements are to be used in a court in Pakistan, which is conducting a trial in the case.
The attacks claimed 165 lives. Nine gunmen also died. India-Pakistan ties hit rock bottom when Pakistan-based militants Lashkar-e-Taiba were blamed.
The BBC's Rajini Vaidyanathan in Mumbai says the Pakistani delegation headed straight for their hotel after arriving from Delhi.
Our correspondent says they will begin carrying out interviews on Friday - although exact details of their schedule have not been released.
It is the first time India and Pakistan have co-operated across the border in the trial of terror suspects, our correspondent says.
It is not clear who exactly the eight members of the Pakistani investigating panel - which consists of lawyers and interior ministry officials - will speak to during their Mumbai visit.
Pakistani officials earlier told the BBC that the panel would be allowed to cross-examine witnesses, but The Hindu newspaper on Thursday reported that it will only be allowed to record statements from them.
In 2009, Pakistan arrested and charged seven people including suspected mastermind Zaki-ur-Rehman Lakhvi, who is alleged to head Lashkar-e-Taiba.
Autopsies
Mr Lakhvi remains in custody awaiting trail. Pakistan has repeatedly refused to hand him over to India.
Islamabad initially denied any involvement in the attacks, but in 2009 acknowledged that the assault had been partially planned on its territory and that Ajmal Qasab, the lone surviving member of the attack team, was a Pakistani citizen.
Qasab was convicted of murder and waging war on India in May 2010 and given a death sentence.
Officials say that while no list of interviewees has been confirmed by the Pakistani team, a meeting with Qasab - whose appeal is pending in the Supreme Court - is considered to be highly unlikely.
However the panel may speak to people who questioned Qasab after his arrest including RV Sawant Waghule, who recorded his confession, and the case investigating officer, Ramesh Mahale.
Two doctors who conducted autopsies on the nine gunmen will also have their statements recorded, reports say.
Pakistan agreed last year to send a judicial team to India during home secretary-level talks between the two countries, but the team's arrival was delayed by several months.
The 60-hour siege of Mumbai began on 26 November 2008, targeting luxury hotels, the main railway station and a Jewish cultural centre.