India railway minister denies resignation reports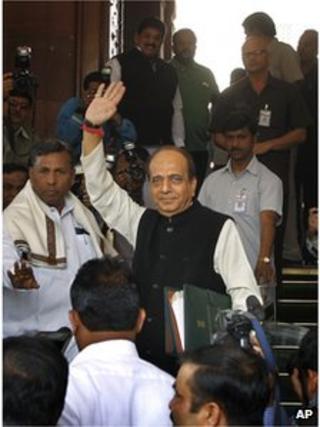 India's Railway Minister Dinesh Trivedi has denied reports that he has resigned after his party protested against his decision to increase passenger fares.
Mr Trivedi's decision to increase fares on Wednesday prompted strong protests from his Trinamul Congress party, a key ally of the federal government.
His party wants Mr Trivedi to roll back the increase.
Party leader Mamata Banerjee has asked the prime minister to sack Mr Trivedi, reports say.
Mr Trivedi raised the fares in Wednesday's railway budget by a maximum of 30 paisa ($0.006; £0.0038) per km because the network was passing through a "difficult phase".
India's state-owned railway operates 7,000 passenger trains and carries some 13 million passengers daily.
Safety argument
When asked whether he would quit, Mr Trivedi told reporters: "I will not run away from my duty. Till now, nobody has sought my resignation. The moment Mamata Banerjee or the prime minister ask for my resignation, I will do so."
Finance Minister Pranab Mukherjee told the parliament that the prime minister had not received a letter of resignation from Mr Trivedi and the "government has not taken any action on this [issue]".
Mr Trivedi defended the fare increase, saying that he had done it for the "betterment of the railways and country" and to raise funds to improve the safety on the network.
"If you roll back [the fare increase], you have to roll back safety concerns. I have taken railways out of the intensive care unit [with the increase]. If I didn't take measures, the time would have come when railway employees wouldn't have got their salaries," he said.
However, within hours of his announcement, Mamata Banerjee, the chief of Mr Trivedi's Trinamul Congress party, rejected the fare increase.
Another Trinamul leader, Sudeep Bandopadhyay, said the party had asked Mr Trivedi to announce a rollback in fares.
Later on Wednesday night, Ms Banerjee reportedly faxed a letter to Prime Minister Manmohan Singh, asking him to sack Mr Trivedi and withdraw the hike in railway fares, media reports said.
Mr Trivedi said he had been counselled to go for steep increase in fares as there had been no increase in nearly a decade but he chose not to do so "guided by the over-riding concern for the common man".
Railways officials say the jump in fuel prices over the last eight years has badly affected their bottom line.