Salman Rushdie to be a 'presence' at India conference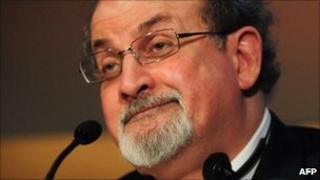 British author Sir Salman Rushdie is due to speak at a conference in the Indian capital, Delhi, on Friday.
A spokesman for the organisers, the India Today media group, declined to confirm reports that the author will be physically present.
All he would say is that Sir Salman "will be a presence at the conclave".
The author was forced to pull out of a literature festival in the country two months ago after death threats from some Muslim protesters.
Many Muslims regard Sir Salman's 1988 novel, The Satanic Verses, as blasphemous. The book is still banned in India.
The author won the Booker Prize for Midnight's Children in 1981.
Vow to return
According to theIndia Today Conclavewebsite, Sir Salman is due to speak on Friday for an hour.
His event is be titled "The Liberty Verses - I am What I am and That's All That I am". It will be moderated by author Aatish Taseer.
In January, Sir Salman withdrew from attending the Jaipur Literature Festival, saying that sources had told him of a death threat.
He was also forced to abandon plans to address the gathering by a video-link after protesters threatened to march on the venue.
Later, speaking to India's NDTV television channel, Sir Salman said he was at a loss to explain why his planned presence had caused such a furore given that he had visited Indian a number of times in recent years.
But he vowed that "I will come back to India".
Sir Salman was born in India but is a British citizen and has lived in the UK for most of his life.