The greatness of Rahul Dravid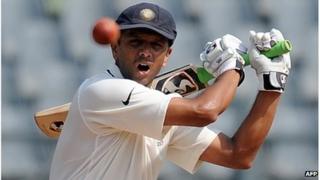 The late Peter Roebuck, one of the world's greatest cricket writers, once exclaimed that removing Rahul Dravid from the crease would possibly need gelignite, an explosive material invented by Alfred Nobel.
Roebuck was observing Dravid withstand a fearsome Australian pace attack with his trademark fortitude, attrition and immense powers of concentration.
He wrote: "Only the most resourceful players can withstand such an intense Australian attack for a long period of time. Dravid is such a man. Something more than attrition is is needed to remove him. Gelignite is the most obvious alternative but the match referee might baulk at that. Australia searched for a weakness as a dentist does for holes and could find none. Thereafter, it was a matter of waiting for a mistake. It was a long time coming."
The decision to retire from international cricket didn't require that long. Dravid said on Thursday that he had been mulling over it for a while, and thought this was the right time to depart and make way for a new generation of Indian batsmen.
It will be difficult to replace the legendary batsman, for whom, in the words of my friend and cricket writer, Rohit Brijnath, "decency and determination were not conflicting virtues". Something which many of the talented and brash young cricketers would do well to remember.
On Friday, Dravid said he never took the media's nickname for the patient batsman, 'The Wall', seriously. The Wall conjures up images of a frustratingly impenetrable obstacle, but Dravid was much more than that.
Nobody describes it better than Roebuck again, writing on a carefully crafted 332-minute-long Dravid innings.
"Somewhat to his chagrin, Dravid has been described as the "wall' of Indian batting, a tribute to the sense of permanence to be found in his batting. Certainly, there is something eternal about his work in the middle. Moreover, his innings are constructed brick by brick," he wrote.
"But to regard India's first drop merely as an obstacle is to underestimate his abilities. Dravid is a batsman of the highest class whose form in recent years indicates that he deserves to be included in the ranks of the major batsmen of the period. He has scored runs against all sorts of bowling on all kinds of pitches."
As the innings continued, Roebuck summed up David's qualities as a true Test virtuoso.
"Dravid has a simple game founded upon straight lines. Reasoning that runs cannot be scored in the pavilion, he sets out to protect his wicket. Curiously, this thought does not seem to occur to many batsmen, a point many a long-suffering coach could confirm," he wrote.
"He defends his stumps with skill and strength of mind. Australia's fast bowlers tried to upset him and might as well have been attacking a tank with a slingshot. Attempts to test his patience were no more effective. Dravid reads long books and does not expect a man to be shot upon every page."
Another time, another place, another cricket writer of repute and Dravid's skills are again put into perspective.
It's the epochal 2004 India tour of Pakistan, Dravid is walking to the crease in Karachi, and writer Rahul Bhattacharya is in the press box.
"The innings was entrusted now to Dravid, who had emerged as the one man in the world who could be trusted with any situation," wrote Bhattacharya. "He accepted with customary poise; urgent, but still mindful of the fate befalling Tolstoy's peasant, who ran all day for land but died at sundown."
Dravid departed one short of a hundred in the 48th over. He had scored 99 of India's 349 runs. India won the match by five runs.