Rahul Dravid: A special type of player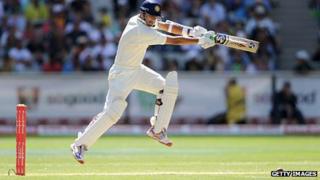 Rahul Dravid did not merely hang up his boots today; a special type of player returned with him to the pavilion, perhaps never to be seen again.
Dravid believed that the best sportsmen were incomplete if they did not conduct their lives with dignity, integrity, courage and modesty, all of which were compatible with pride, ambition, determination and competitiveness.
He was the embodiment of his ideals, and that, over an international career of 16 years is as significant as the runs he made or the catches he took.
In that period, he scored more runs than Sachin Tendulkar and made an incredible 23% of the runs scored by India in the 21 Test victories under Saurav Ganguly (at an average of 102.84) that put India on the road to becoming the No 1 Test team in the world.
It was the quiet, dignified confidence of Dravid that allowed the next generation to display the aggressive entitlement associated with the likes of Virat Kohli who is the most obvious successor to the great man.
Focus
Dravid's strike rate in his only Twenty20 internationals was 147. In one-day internationals, he is one of only 10 batsmen with over 10,000 runs. Those figures say more about his character and professionalism than his record in Test cricket, the format he was born to play.
In his early years it was believed that he was a misfit in one-day cricket; in the evening of his career received wisdom was that he did not fit into the Twenty20 scheme of things. Dravid has made a cottage industry of proving such perceptions wrong.
About three years ago, it was assumed his career was over.
Dravid alternated between batting well without luck and struggling to score but making enough runs to keep his place. When he looked good at the crease, his fans worried because it invariably led to an early dismissal. But when he did score runs, the grace and charm that were associated with his batsmanship were missing.
Like Tendulkar - his friend and partner in a world record 146 matches - Dravid dug deep and found an inner strength that abruptly removed all the cobwebs and cleared all the confusion.
A century in Chandigarh against England and two more against Sri Lanka showed he had lost nothing. He was no longer tentative. The focus was back in the eyes, the helmet continued to rain down sweat through a long innings. Dravid was back in touch.
Last year, at 38, he finished with the highest number of runs among international batsmen.
The difference, of course, is that on the earlier occasions when he made a century, India did not lose. Now Dravid's three centuries were the only consolation for an Indian team that was thrashed 4-0 in England. By the time India had lost by a similar margin in Australia, Dravid had been bowled six times in eight innings.
Dravid belongs to that fine sporting tradition in his home state of Karnataka where world class performers and all-time greats are modest to a fault.
Men like Gundappa Vishwanath, Bhagwat Chandrasekhar, Anil Kumble, Javagal Srinath and Prakash Padukone hate to draw attention to themselves despite being confident men who are self-aware.
It is a temperament the modern sportsmen find difficult to understand. It might have meant fewer endorsements in the marketing world, but their's is an old-world charm that is fast dying out. Dravid belongs to two traditions that seem to be on their last legs, the other being the text-book player who can adapt his game to other formats, but is happiest in the longest version.
'Poetic'
Few players captured Dravid quite as dramatically as Steve Waugh, who said after the 180 in Calcutta and the famous partnership with VVS Laxman: "Rahul's batting was poetic, with flowing follow-throughs that capitalised on exceptional footwork and a rock-solid base. His head was like the statue of David, allowing for perfect balance."
The man who announced his arrival on the big stage at Lord's not just by scoring 95 but "walking" when he knew he was out, was the touchstone against which other players around the world checked themselves.
"I take inspiration from Dravid," said Ricky Ponting when the cries for his head grew in Australia. The most terrible thing he has done on a cricket field is to chew on a lozenge.
When he started out, Dravid's ambition was to be clubbed with Gavaskar and Vishwanath. In a country obsessed with rankings, Dravid will be ranked above his heroes.
Batting at number 3 is one of the most tension-filled jobs in cricket. Dravid has earned his rest. But what of the rest of us? When India are in trouble, we can never again console ourselves with the thought: "Dravid's at the crease, all's right with the world."
Suresh Menon has written books on Sachin Tendulkar and Bishan Bedi.