Indian 'mining mafia' accused of killing policeman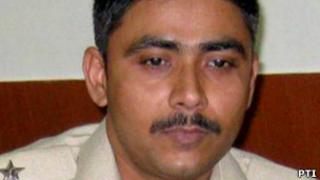 A senior Indian police officer has been run over and killed by a vehicle carrying illegally quarried stones in northern Madhya Pradesh state, police say.
Narendra Kumar Singh, 30, tried to stop a tractor carrying the stones, but the driver ran him over.
The driver of the vehicle, Manoj Gurjar, has been arrested and charged with murder.
Police suspect the involvement of a local mining mafia in the incident.
Senior police official DP Gupta said that Mr Kumar, who was the sub-divisional police officer in Morena area, had been trying to stop illegal quarrying in the area.
"The officer had received information about illegally mined stones being carried in a tractor," state Home Minister Uma Shankar Gupta told reporters.
"The officer reached the spot and asked the driver to stop the vehicle but he ran over him. The driver has been arrested and the matter will be inquired into."
Correspondents say illegal mining is rampant in parts of Madhya Pradesh.