India's Holi festival marred by Mumbai illness outbreak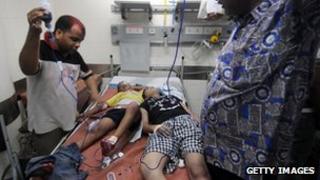 More than 160 people have been treated in hospital after being taken ill in Mumbai during an annual festival.
They are thought to have been poisoned by coloured powders thrown during celebrations of Holi, the festival marking the start of spring.
Doctors believe the patients suffered an allergic reaction to chemicals in a particular batch.
Most of the people being treated are children, and many of them are said to be in a serious condition.
The BBC's Rajini Vaidyanathan in Mumbai says the patients began arriving at the Sion Hospital casualty unit complaining of giddiness, vomiting and headache.
Hindu festival
Holi is marked throughout India, but the biggest celebrations take place in the temples of the northern town of Vrindavan where, according to legend, the Hindu god Krishna played Holi with his consort Radha.
Hindus in Nepal, the Pakistani city of Karachi, the US and UK, are also celebrating the festival.
In Indian cities and towns, groups of people are roaming the streets coloured in reds, greens and pinks.
In Vrindavan temples, celebrations continue for days - devotees pray to the deity as coloured powder is thrown on them. They are also sprayed with jets of coloured water.
The festival is hugely popular with the young and students begin the colourful celebrations several days before the true festivities begin.
Holi is also widely celebrated in Nepal which has a large Hindu population. Many tourists also joined in the festivities on the streets of the capital, Kathmandu.