Mukesh Ambani again tops India Forbes rich list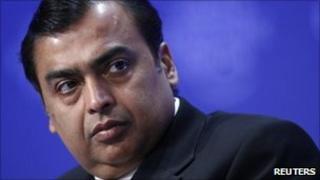 Indian business tycoon Mukesh Ambani has topped the list of billionaires from the country in the Forbes magazine's annual list of the world's richest billionaires.
Mr Ambani, 54, has amassed a $22.3bn fortune and is ranked 19th in the the global rich list, the magazine said.
He is the chairman and managing director of Reliance Industries, one of the largest conglomerates in the world.
Of the 1,226 billionaires in this year's Forbes list, 48 are from India.
There are also nine billionaires of Indian origin living in countries like the US, UK, Indonesia, Ireland and Thailand.
"Mukesh Ambani is the world's richest Indian, despite losing $4.7bn in the past year," Forbes said.
Two years ago Mr Ambani built a 27-storey residence, believed to be the world's most expensive home, in the western city of Mumbai.
Reports suggest the house is worth more than $1bn (£630m).
Indian steel boss Lakshmi Mittal, in 21st place, was one of the biggest fallers on the list this year, dropping out of the top 10.
His wealth is now estimated at $20.7bn, down by $10.4bn as a result of higher costs and lower steel demand in Europe.
Mexican tycoon Carlos Slim has topped the list for three years in succession.
The magazine estimates that Mr Slim, whose business interests range from telecommunications to construction, is worth $69bn (£44bn).