Mayawati quits as Uttar Pradesh leader after poll loss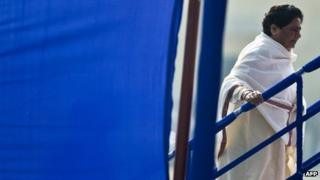 India's Dalit icon Mayawati has quit as the chief minister of Uttar Pradesh state after her party's poor showing in crucial assembly elections.
She said as the results did not favour her party, she had recommended to the governor to dissolve the assembly.
In Delhi, Congress chief Sonia Gandhi vowed to "correct the mistakes" that led to her party's dismal performance.
Congress had disappointing results in three other states, winning a clear majority only in Manipur.
These polls are seen as a litmus test for national elections due by 2014.
The Samajwadi Party took 224 seats out of the 403 in Uttar Pradesh legislative assembly, while Congress languished in the fourth slot with 28. Ms Mayawati's Bahujan Samaj Party was a distant second with 80 seats.
'Cold storage'
On Wednesday, Ms Mayawati blamed all her political opponents - the Congress party, Bharatiya Janata Party and Samajwadi Party - and journalists for her loss.
"The new Samajwadi Party government will put all development and welfare programmes in cold storage and take the state back several years in time," she said.
"Very soon the voters will get disillusioned with the functioning style of the Samajwadi government and remember our good governance," she added.
Ms Mayawati said she was confident her party would be voted back to power in the next election.
In Delhi, Congress president Sonia Gandhi addressed a rare press conference after meeting her party leaders.
"We will have to sit down and look at the situation and the results in every single state and together work out a plan to correct the mistakes we have made," she said.
Mrs Gandhi said the reasons behind the party's poor showing could be many.
"Our organisation is weak in Uttar Pradesh, our candidate choice was one of the reasons, inflation could be another," she said.
Mrs Gandhi, however, said that the results would "not damage the Congress party-led government" and it was premature to talk about general elections as they were due only in 2014.
The Samajwadi Party's legislative board is meeting in Lucknow to elect the new chief minister.
Mulayam Singh Yadav, the 72-year-old-leader of the party, is expected to lead the government in the state.