A setback for Rahul Gandhi and the Grand Old Party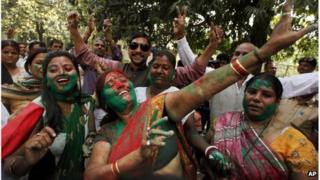 Are India's state election results a blow to Rahul Gandhi's bid to become a truly national leader and bolster the flagging fortunes of his Congress party?
On the face of it, it does seem so.
The party has fared abysmally in the politically crucial state of Uttar Pradesh, leading in only 27 of the 403 seats at the time of writing. This after the party heir-apparent and prime minister-in-waiting toured the length and breadth of the state over three months, speaking at over 200 campaign meetings. Remember, during the last state elections in 2007, Congress picked up a miserable 22 seats.
Congress was expected to cash in on traditional anti-incumbency in the opposition-ruled Uttarakhand and Punjab, but it appears to have failed here too. At the time of writing, the regional Akali Dal and Hindu nationalist BJP alliance had romped ahead in Punjab, while in Uttarakhand, the party was running neck-and-neck with the ruling BJP. The only consolation has been in the tiny north-eastern state of Manipur, but even here Congress's victory is attributed to a strong local leader rather than a powerful party.
No guarantee
All in all, despite a brave face put up by its leaders, it has been a dismal performance by India's Grand Old Party.
So what does this performance tell us about Mr Gandhi and his party?
For one, say analysts, it shows that when your party-led federal government is battered by allegations of corruption, indecisiveness, and stasis, unleashing a relatively young and sophisticated scion of the country's most famous dynasty on the campaign no longer guarantees votes in today's restless and aspirational India.
I had been sceptical of the English-language media's often uncritical endorsement of Mr Gandhi's campaign and mentioned this in a previous post, quoting leading political philosopher Pratap Bhanu Mehta: "I think Rahul Gandhi is making the biggest mistake in thinking that political mobilisation and outreach can happen independently of your record in government." To be fair, Mr Gandhi has accepted blame for the defeat, despite public pronouncements by his faithful flock that their leader was not responsible.
It also proves that all the hard work put in by Mr Gandhi - and nobody denies that - does not translate into votes and seats if the local party organisation is weak and leadership is virtually non-existent, as happened in Uttar Pradesh.
The stranglehold of the dynasty has led to the emasculation of local leaders and feeble party networks. In today's India, centralisation no longer works as political power has devolved to regional leaders and parties. Congress, analysts believe, needs to foster and empower local leaders, but it is difficult to see that happening under the overwhelming aura of the dynasty and the preening obeisance of party rank and file.
Sobering
The results in Uttar Pradesh also tell us something about the way India is evolving.
For one, it points to the unfettered growth of regional parties - the victory of Mulayum Singh Yadav's Samajwadi Party and the marginalisation of Congress and the BJP, the two national parties, again proves that the state has become, in the words of a political scientist, "a two-dominant-party, multi-party system".
The defeat of the Bahujan Samaj Party, led by the mercurial Mayawati, redoubtable leader of India's dirt-poor Dalit, also offers some sobering lessons. Without Ms Mayawati's politics of assertion, Dalits would have never become politically empowered as they are today. This is what analyst Manini Chatterjee so eloquently calls the "irony of empowerment." But "empowerment has also meant awareness and aspiration, impatience and restlessness," says Ms Chatterjee.
Ergo, voters are no longer satisfied with paltry patronage. They demand more. They are less likely to turn a blind eye to corruption, which they are inured to. And no party, this election proves, can take voters for granted in today's India. Indian elections, as political scientist Vivek Prahladan says, are now being decided on how parties successfully link the "politics of belonging (identity) and the politics of belongings (offerings from the welfare state)".