India starts Angkor Wat replica in Bihar
By Amarnath Tewary
Patna, Bihar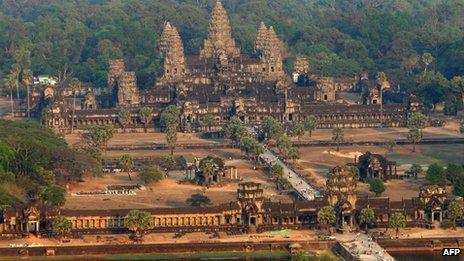 A Hindu trust in India's eastern state of Bihar has begun building a replica of Cambodia's Angkor Wat temple.
A foundation-laying ceremony for the $20m (£12.5m) project has been held 25km (16 miles) from Bihar's capital Patna, on the banks of the Ganges.
The builders say the result will be the world's largest Hindu temple.
The main temple of the Unesco-listed Angkor Wat was originally Hindu when built in the 12th Century but was later used for Buddhist worship.
The Mahavir Mandir Trust says construction will take 10 years.
"It will be the world's largest Hindu temple… bigger in size, shape and height than the Angkor Wat of Cambodia," the trust's secretary, Acharya Kishore Kunal, told the BBC.
"It will be known as Virat Angkor Wat Ram temple but will also house other Hindu deities like Radha-Krishna, Shiv-Parvati, Ganesh, Surya and 10 incarnations of Lord Vishnu", he said.
"We'll make this temple the pride of the Hindu temples in the world and I've started it on the occasion of the 100th year of Bihar state's foundation."
The temple will be constructed on a sprawling 40-acre site in Vaishali district in north Bihar.
Mr Kunal said the god Ram was believed to have visited the site in the course of his journey and was welcomed by King Sumati of the Vaishali kingdom.
Mr Kunal said there was already a small temple to Ram in the area and the local villagers had readily agreed to the new project.
The trust has already built a number of temples and hospitals in Bihar.
"We'll make this temple an icon for Bihar and the world as well as for grandeur and splendour," Mr Kunal said.