India Mayawati statues uncovered after election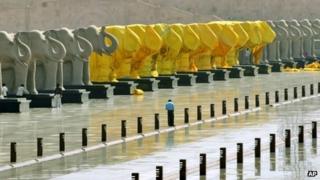 Authorities in India's Uttar Pradesh state are uncovering statues of Chief Minister Mayawati and her party symbols two months after they were shrouded on orders from election chiefs.
The election commission ordered the huge statues to be covered up until the end of state assembly polls on 3 March.
It said the statues and symbols could influence voters.
Truckloads of plastic sheets were used to cover the monuments to shield them from voters' eyes.
Voting for the crucial state assembly elections ended on 3 March and counting is scheduled for 6 March.
Ms Mayawati is famous for building statues of herself and other icons from her low-caste Dalit community.
In two parks in the state capital, Lucknow, and Noida, a suburb of Delhi, there are nearly a dozen statues of Ms Mayawati and more than 75 stone elephants - the symbol of her Bahujan Samaj Party.
Under election rules, portraits and calendars bearing photographs of the chief minister must be removed from government offices ahead of elections.
The election commission had ordered the statues and symbols to be draped by 11 January.
Uncovering
The commission ordered their unveiling on Saturday and officials said work began on Sunday.
Reports said scores of workers were uncovering the statues of Mayawati and other Dalit icons at the Dalit Prerna Sthal park in the Delhi suburb of Noida.
In nearby Badalpur park, elephant statues were also being uncovered.
Work was also going on at various memorials and parks in the state capital, Lucknow.
Huge numbers of statues commissioned by Ms Mayawati can be seen in Lucknow and other towns and cities of Uttar Pradesh.
Statues of political leaders are generally put up posthumously, but Ms Mayawati says that belief is outdated.
Her Dalit supporters take pride in the parks and monuments dedicated to their community heroes. They say Ms Mayawati has transformed "Lucknow into London".
Critics, however, accuse her of self-glorification and wasting public money.
In September, leaked US diplomatic cables said Ms Mayawati had sent an empty private jet to fetch a pair of sandals from Mumbai - a charge she strongly denied.
Uttar Pradesh is one of India's most deprived states with a high crime rate and poor health indicators.
The chief minister's spending on statues and memorials has been described as "shameful" by critics.