India police injured in Bangalore courthouse riot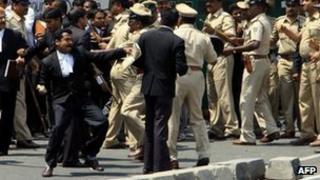 An Indian policeman has been badly injured in a riot at a courthouse in the southern city of Bangalore.
Police used tear gas and a baton charge to disperse lawyers who had attacked journalists covering a prominent trial unrelated to the clashes.
At least 15 other policemen were injured, as well as several reporters and cameramen.
The lawyers were angry with the journalists over coverage of a lawyers' strike in January.
A judicial inquiry has been ordered into the clashes.
'Pitched battle'
A large group of journalists was at the courthouse to report on the trial of a former Karnataka state minister, Janardhana Reddy, on charges of illegal mining.
Police said the violence broke out after Mr Reddy appeared at court and was then taken away by Central Bureau of Investigation officers.
Eyewitnesses said there was a pitched battle between the lawyers on one side and police and the journalists on the other. Several vehicles were damaged in the violence.
"They (the lawyers) started throwing stones from the top floor of the court. Even policemen were running for cover," said eyewitness Venkat, a student.
Bangalore's lawyers have been angered over what they termed biased coverage of their strike in January, called in protest against the assault of a lawyer by the police.
That strike stalled traffic in central Bangalore for more than six hours and led to a clash with journalists on the day.
Senior Police official VS D'Souza told the BBC that the situation was only brought under control after police used force to control the lawyers.
The Chief Minister of Karnataka, Sadananda Gowda, met senior officials and said a judicial inquiry had been ordered into the violence.
"We have taken the issue very seriously. Nobody will be spared," said Mr Gowda.