The big business of elections in India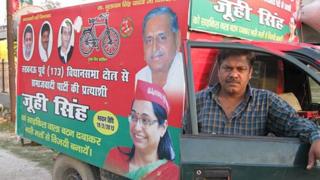 Elections in India generate a huge amount of business. The ongoing month-long elections in five states has been no different, as BBC Hindi's Faisal Mohammed Ali reports from Uttar Pradesh.
As the campaigning winds down in Lucknow, capital of Uttar Pradesh state, lorry owner Ravi Singh has begun to worry about his livelihood again.
For the past month, political parties have hired his truck for up to 2000 rupees ($40; £25) a day for campaigning. Business has never been so good for Mr Singh.
"Now I have to look around for customers again. They are not easy to come up. There are too many trucks," he says.
It is not the lorry drivers alone who make good money during elections in India. Across town, the owner of a charter airline with a fleet of two- and seven-seater planes is reporting an uptick in business.
"All our seven planes were completely booked in January and February by political parties for campaigning. They flew a total of 600 hours during this period, which is quite high by our standards," says Manav Singh, managing director of Imperial Air.
As politicians, journalists, diplomats and election watchers flood the city to campaign for their parties, hotels have been doing a booming business too.
Technology drive
Occupancy in the posh Taj Hotel has been 100%, says its deputy sales manager Shabahat Hussain.
With political parties using technology to spread their message, text messaging companies and call centres have benefited.
Anup Agarwal launched a new text and voice messaging company on the eve of the polls. Despite glitches, his company sent out 700,000 messages, charging less than a cent for every message.
"Many people can't read messages in English and Hindi messages are still not very successful. But still it has been a very good experiment, maybe it would pick up next time," he says.
Also, all the parties set up their own call centres, hiring equipment and staff.
"The idea was to provide a single number to contesting candidates and party workers where they can call in case of a query, an emergency or know the party line on specific issue," says Shehzad Poonawalla, head of a call centre run by the Congress party.
"We also provide information on issues such as star campaigners and available publicity material."
However, demand for some conventional businesses linked to elections has begun to fall.
The printing business, for example, has taken a hit as demand for pamphlets and publicity material has gone down.
Elections have India have always spurred business - one unconfirmed estimate put the total spending during the 2009 general elections at $3bn, higher than the $2.4bn spent during the last US presidential polls.
India's election authorities have capped each candidate's spending at $32,500.
Many believe that most candidates spend more than this. But if they stuck with the cap, the 9,000 candidates running in the five states in these elections would have spent a whopping $300m.