Norway 'unable to act on India children' in custody row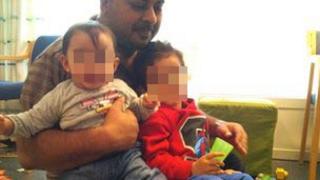 India's foreign minister says Norway is unable to do anything about the Indian children taken from their parents and put into foster care because a court case is on in that country.
SM Krishna said "a judicial process is on and it is not possible for the executive to make a move".
The children, aged three and one, were removed when child services said their parents had failed to look after them.
A special envoy sent to Norway to plead India's case returned on Thursday.
Earlier, a child welfare agency in Norway said that custody of children should be awarded to their uncle.
This would allow them to return to India, Stavanger Child Welfare Service said in a statement.
A local court will make the final decision in March, the statement said.
A provisional date of 23 March has been set for Stavanger District Court to hear the case.
Correspondents say the statement by the child welfare agency had raised hopes that the children were on the verge of being handed over to their family, but Mr Krishna's statement on Thursday makes it clear it will not happen at least for some more time.
'Deal with the situation'
Earlier this week, special envoy Madhusudhan Ganapathi was sent to Oslo where he met the Norwegian foreign minister, child welfare minister and other officials, Mr Krishna said.
"Nobody expected that Mr Ganapathi would come back with the children," Mr Krishna said.
The minister added: "We have to deal with the situation till the judicial process is completed. We'll closely monitor the situation and if need be, we'll send more officials."
Mr Krishna said the case was being heard in court on 23 March and "after that it would be possible to make efforts to get the children back to India".
The children were removed from the parents and put into foster care last May and the case has received huge attention in India.
The parents, Anurup and Sagarika Bhattacharya, said there were "cultural differences" the authorities took exception to, including sleeping with the children and feeding them by hand.
The child welfare agency has denied this, saying it only intervened when the children's safety was at risk.
They were recently allowed to spend a couple of hours with the children in the presence of social workers.