Kathryn Bigelow shoots Osama Bin Laden film in India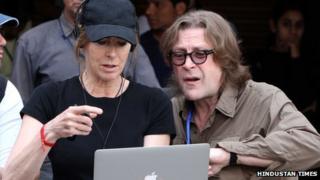 Oscar-winning Hollywood director Kathryn Bigelow is shooting her new film on the hunting down of Osama Bin Laden in the Indian city of Chandigarh.
The director has been in India for the past eight to 10 days, reports said.
The al-Qaeda chief was killed in the Pakistani garrison town of Abbottabad in May last year in a covert mission by US special forces.
With US-Pakistan relations strained over the past few months, the film-makers are unable to shoot in Pakistan.
Director Bigelow and Sony Pictures expect the film about the raid to be released in October 2012.
Ms Bigelow won a best director Academy Award for The Hurt Locker, a 2008 movie about a US army bomb disposal team set during the Iraq War.
On Wednesday, Ms Bigelow shot at a market in Chandigarh, which the crew dressed up temporarily as a location in the Pakistani city of Lahore, the Indian Express reported.
"The boards of several shops turned to Urdu, autorickshaws with Lahore number plates whizzed past and burqa-clad women and men in kurta [long tunics]-pyjamas, chappals [slippers] and skullcaps - actors from Chandigarh and Patiala - ambled up and down the street," the paper reported.
Last month, it was reported that US officials were investigating if potentially classified information about the Bin Laden killing was given to Ms Bigelow.
The White House called that report "ridiculous".