Indian PM Manmohan Singh orders big health care boost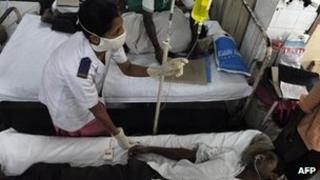 Indian Prime Minister Manmohan Singh has ordered a massive increase in spending on health care.
A statement from Mr Singh's office said spending would rise from 1.4% of gross domestic product to 2.5% by 2017, an increase of about $19bn (£12bn).
The statement said the health ministry was working towards the goal of providing universal health care.
Analysts say increases in spending on health care as a proportion of GDP have been promised before but not delivered.
"As health is primarily a state subject, the outlay of states for health would be critical in achieving this target," Mr Singh's statement said.
"The Planning Commission may motivate and incentivize the states to allocate more funds for the health sector," it continued.
The prime minister indicated his support for a number of health care initiatives including universal health care and free medicine.
He also said primary health centres and district hospitals should be improved to provide good, free inpatient and outpatient care.
Ambulance services should also be improved, Mr Singh said.