India charges 'anti-nuclear protest' NGOs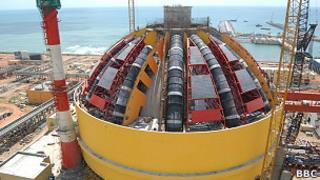 The Indian government has charged four non-governmental organisations with allegedly diverting foreign funds to back protests against a nuclear plant.
The move comes days after PM Manmohan Singh blamed US NGOs for the delay in commissioning the Koodankulam nuclear plant in Tamil Nadu state.
Authorities also deported a German national for allegedly assisting the protests.
The plant has been stalled by protests from local people over safety concerns.
Mr Singh told the prestigious Science journal that the commissioning of two 1,000-MW nuclear reactors at the plant in Tirunalveli district had "gone into difficulties because these NGOs, mostly I think based in the United States, don't appreciate the need for our country to increase the energy supply".
The protesters, led by the People's Movement against Nuclear Energy, have denied the allegation and said they would go to the courts accusing Mr Singh of defaming the movement.
Protests 'engineered'
Home Secretary RK Singh told reporters that the federal Central Bureau of Investigation (CBI) and the local Tamil Nadu police had registered cases against four NGOs for "violating of provisions of the Foreign Contribution Regulation Act".
He said the bank accounts of the NGOs had been frozen after "it was found that they were diverting money received from their donors abroad into funding protests at the Koodankulam plant".
Meanwhile, a 49-year-old German national Sonnteg Reiner Hermann, who was in India on a tourist visa, was picked up by the Tamil Nadu police for allegedly helping anti-nuclear protests and deported on Tuesday.
The federal minister in the prime minister's office, V Naryanasamy, said Mr Hermann was violating the terms of his visa and was "actively involved" in the protests.
"There is a clear case of foreign money being misused by some NGOs in Koodankulam. The protests are obviously engineered," he was quoted as saying by The Indian Express newspaper.